GRASP has based its principals on Good Manufacturing Practices (GMP) and Hazard Analysis and Critical Control Points (HACCP). These are tools that are fundamental to consolidate a Quality Management System.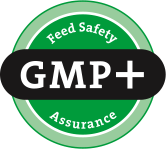 CWith an important European GMP+ certification with the scope of Production, storage, shipping and trading of premixes, additives, supplements and ingredients for animal feed, GRASP ensures food safety throughout the manufacturing supply chain links of its products.
GMP stems from the acronym Good Manufacturing Practices This international certificate incorporates concepts such as ISO 9001, APPCC, safety limits for undesirable substances, traceability, monitoring, prerequisite programs (PPR) and its own incident reporting system.
The GRASP programs allow traceability and quality control of all possible dangers of contamination and ensure that product is in accordance with all the legal and technical specifications.
Its proprietary laboratory enables GRASP
to have full autonomy in carrying out routine analyses and evaluations in order to monitor the quality and standardization of products.